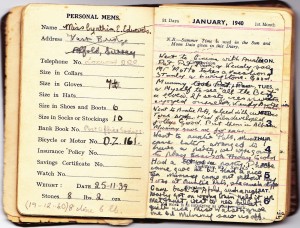 January 1940
Mon 1
Went to cinema with Auntie Pat, Pat, Pam & Wendy.  Saw Mr. Motto Takes a Vacation, Stanley & Livingstone.  Good.
Tues 2
Mummy took Pat, Pam & myself to see "All the Best", a review.  2/-  seats, ices and sweets, enjoyed ourselves.  Wendy at Auntie Pat's.
Wed 3
Went to Auntie Pat's, helped with curlers.  Torch broke.  Had film developed, jolly good.  Put them in album mummy gave me for Xmas.
Thurs 4
Went to Auntie Pat's.  Mummy came later, arranged to have a party, we were going to play tennis on Friday, too cold.
Fri  5
Had a bit of a party.  Phoebe came gave me 6d.  Had a nice tea.  Mummy came out without key.  I was at Auntie Pat's, she came in slipped???
Sat 6
Came back to Alfold, such a night, nearly got on wrong train, held it up, met Janet, went to new billet.  Quite nice, Miss Watson gave me 6 l. Mummy saw us off.